Miku Max
admin 2019-12-06
Miku Max is a sporting intelligent
electric moped
specially designed for urban riding. Unique C-shaped frame making it the first high-end suspension riding electric scooter in the industry. Frame specially optimized based on the straddle model, brings Miku Max strong support, enabling it to meet the needs of people in all markets around the world. Riding in the city with Miku Max not only reveals sense of science and technology, but also reflects unique personality and passion.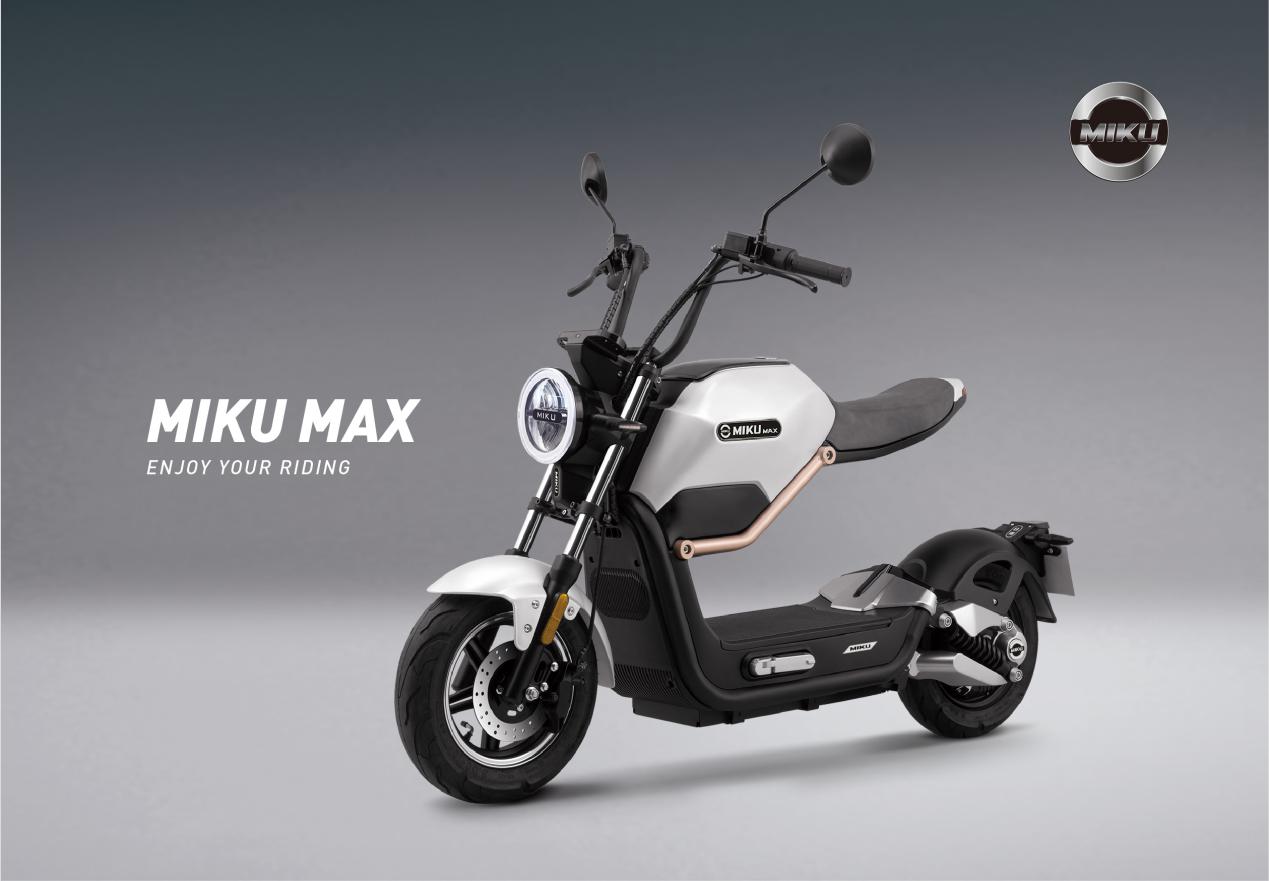 Miku Max boasts of LED lights, special angel ring daytime running light; With unique Miku family luminous logo on LED headlight, achieving 30° illumination angle & max.12m illumination distance, far exceeding international standard of 24° illumination angle & max.9m illumination distance., reflective LED taillight, integrated into the all-lamp group immersion grade sealing process, and equipped with anti-impact PC hardened light housing. The saddle embedded design not only brings more dynamic visual feeling, but also provides excellent sense of security for riding at night.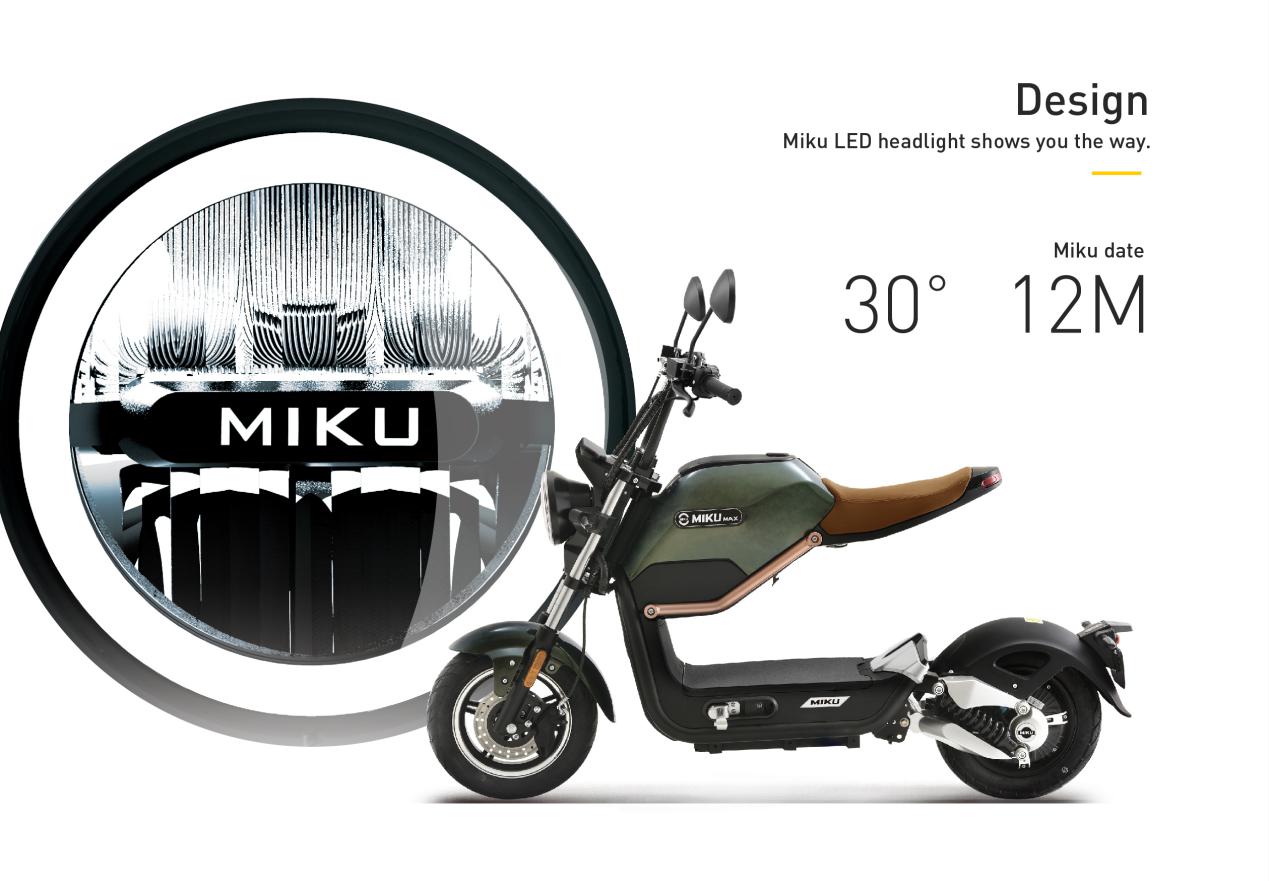 Full screen LED element intelligent instrument, can clearly display power, speed, range, bluetooth connection and so on, and provide real-time network update function.
The industry-leading chocolate touch switch provides two gearshift settings, scientific key layout, not only beautiful, but also makes riding safer, simplified, more convenient, bringing riding more fun.
Miku Max has 5.7L sealed front storage space, you can easily place mobile phones, drinks, chargers, raincoats and other travel essential items. Miku Max is also equipped with mobile phone USB charging port and LED box lamp, intimate and convenient. C suspension design leaves enough space to put items, meanwhile bag items can also be hung on the hook on back cushion, making you convenient & comfortable.
Integrated molding seat pad made of breathable, skin-friendly, non-skid PU material, always making you enjoy comfortable and intimate design, also meanwhile joy of driving experience.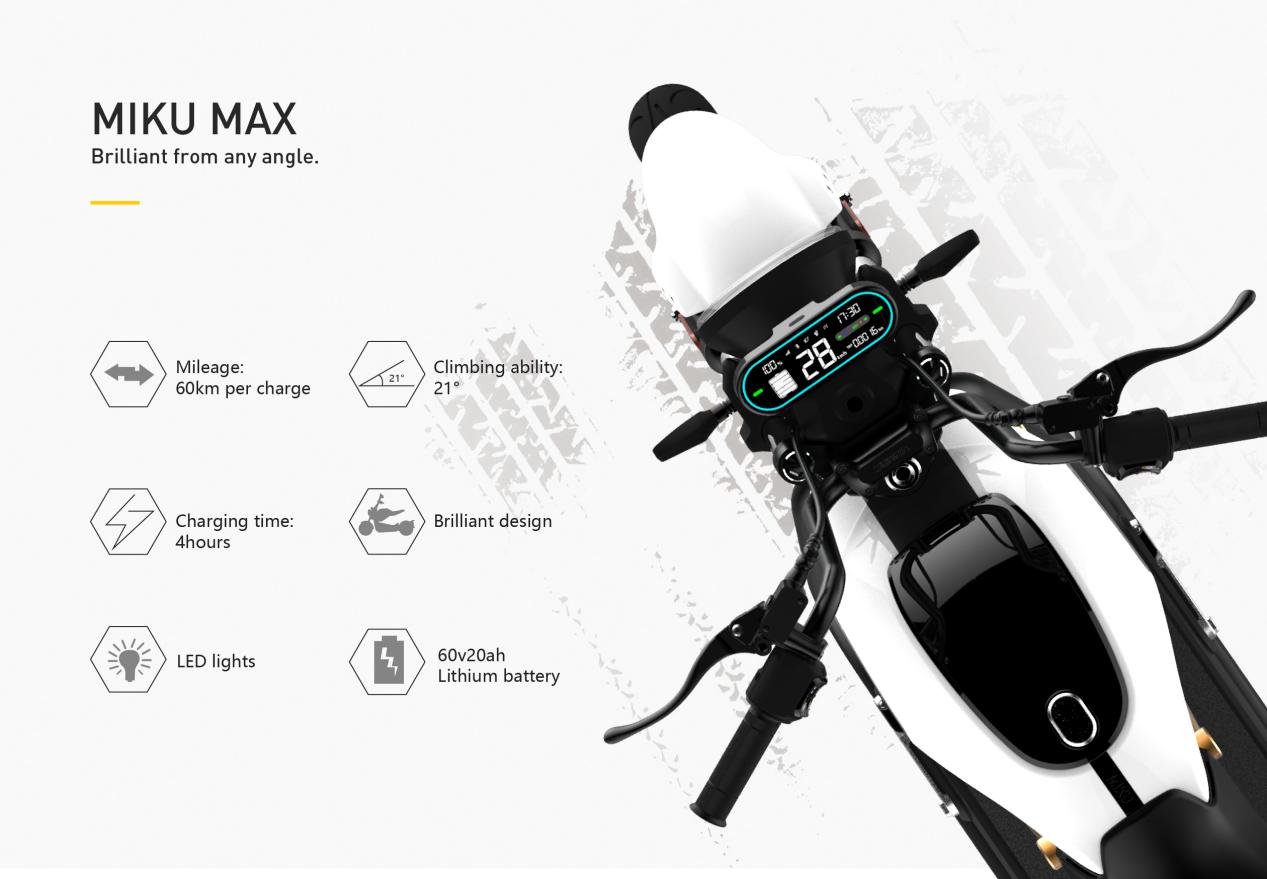 In terms of performance,
Miku Max
adopts 800W BOSCH motor, easily meet challenge of 21% slope with surging power. 60V20Ah high performance lithium battery, only one charge you can drive 60km, 4 hour short charging time well ensures demand of your every travel. FOC intelligent controller, combined with 4 connecting rod shock absorption system, is more than sufficient to cope with all kinds of road conditions.
Miku Max not only brings a brand new visual enjoyment in appearance, but also boasts of its impeccable design. The combination of powerful performance and extreme aesthetics achieve brilliant appearance and outstanding practicability at the same time.